Interior Styling & Stocking.
A well-designed vacation rental is much more than just a pretty face. It's a marketing powerhouse.
At The Hospitality Creator, I use my marketing background and expert psychological stager certification to ask: What styling choices will appeal to this vacation rental's target guest? Then, I create a space that immediately brings an "I found the one!" spark to that guest's vacation rental search. It's design with marketing in mind.
In addition to styling, The Hospitality Creator provisions your vacation rental for success—fully stocking and organizing it with furnishings, amenities, toiletries, and more.
Once the styling and stocking is complete, I help you show off the space by staging it for professional photos and providing a list of amenities and features to help you—or your property manager—create a top-notch listing.
Throughout the process, I select design elements specifically for their hospitality credentials, like sustainability, ease of care, turnovers and of course, functionality for your guests.
I also bring a hearty dose of realism, considering the larger context of your market and your nightly rate in the furnishing process. After all, an over-the-top luxe home in an up-and-coming area might look gorgeous, but how long will it take to recoup those redesign costs?
This unique approach is driven by my own experience of owning and self- managing 5 of my own vacation rentals.
All put together, the end result of working with The Hospitality Creator is a professionally styled vacation rental home that's ready to stand out, earn more bookings, and make your life easier!
Styling Services include:
Style Consult.
Not sure where to start? Then start here. The Style Consult is a 60-minute in-home or phone evaluation of your home, followed by a detailed summary of suggestions, a shopping list, budget recommendations and a proposal for engaging The Hospitality Creator to complete these services for you. Style Consults start at $299.
Vacation Rental Home Staging.
If you are satisfied with your style and amenities, but would like your home to be staged for professional photos, this is the service for you! The cost for Vacation Home Staging ranges from $299- $499, depending on the number of rooms and their size.
Style Refresh.
Perfect for existing vacation rental home owners, the Style Refresh makes use of your existing furniture and décor, while adding as few or as many new pieces as you wish. If you live in Nashville, this service also includes final home staging for professional photos. A Style Refresh starts with a Style Consult, and we go from there!
"From Scratch" Styling and Stocking.
The name says it all. This service includes a totally custom style concept: selecting, purchasing and furnishing all furniture and décor; selecting, purchasing and furnishing all stocked items, including amenities; and, for Nashville clients, final home staging for professional photos. Ideal for brand-new and vacant homes. This option also begins with a Style Consult.
Or you can choose your own adventure! If you have a situation not outlined above, I also offer custom scopes of work. Interior styling services are offered on their own or in conjunction with consulting services.
Currently, we accept interior styling clients in the greater Nashville area, as well as eDesign clients in North America.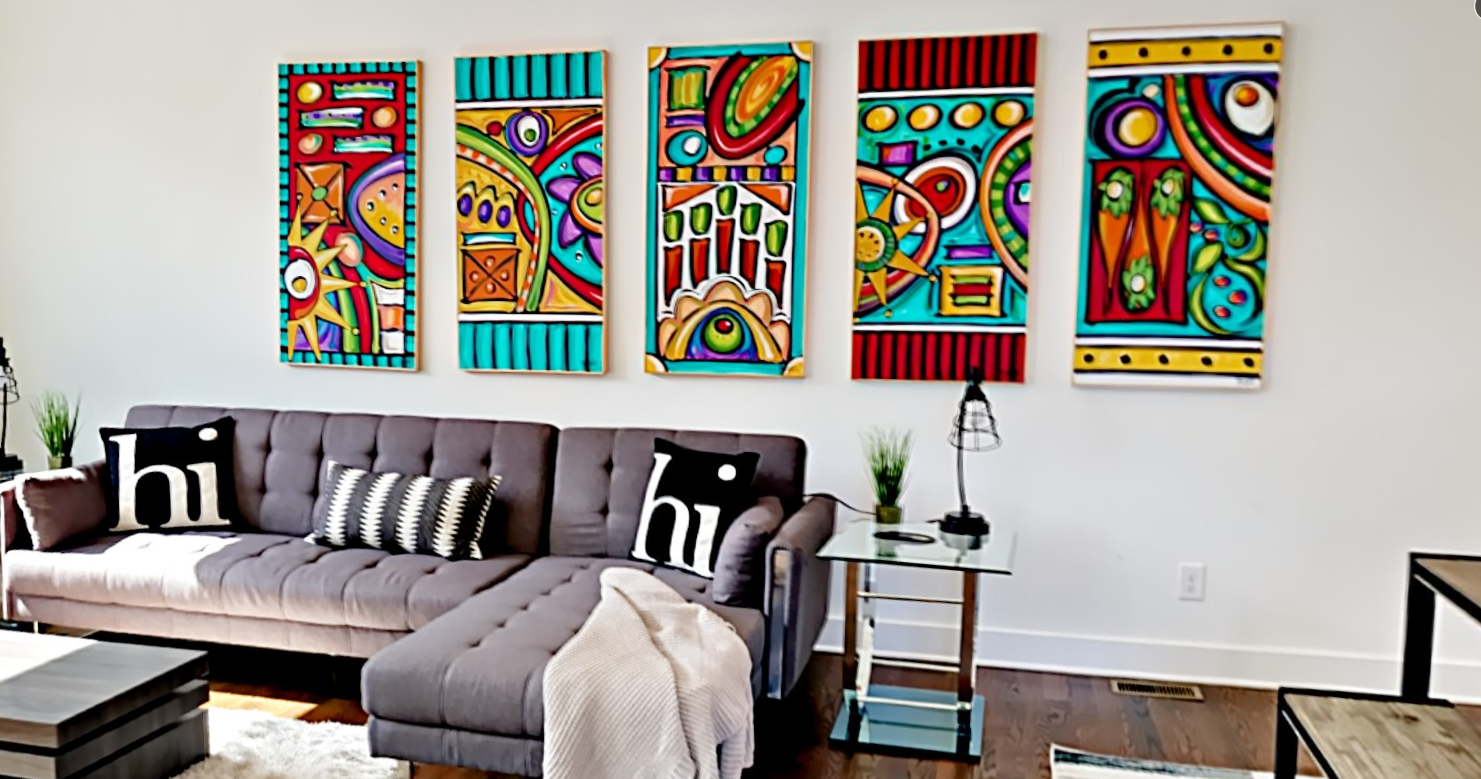 Garage Apartment Transformation
Extended Stay
Furnished Home